The Annals of Adamah
A Medievalesque Fantasy Series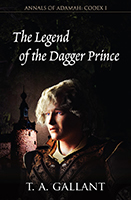 Return to a world of Kings and Guardians, Chancellors and Masters in the exciting new series, The Annals of Adamah.
Codex I, The Legend of the Dagger Prince, was released April 8, 2016. For more information, view its product page.
Information regarding Codex II, Nabbl's Concubine, will be forthcoming shortly.
Learn more about the world of Adamah.