Literary Resources
Support Materials for the Annals of Adamah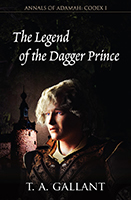 Are you a teacher of literature, or a member of a book club?
To assist and spur discussion, Timotheos Press offers a companion literary study guide for The Legend of the Dagger Prince as a free download (PDF).
Warning! If you wish to avoid "spoilers," be sure to read the book before perusing the guide!
Download The Legend of the Dagger Prince Discussion Guide: Questions Only | Questions + Suggested Answers
---
Download Annals of Adamah Indices, Version 1.0.1 (PDF). This document includes:
Index of Adamean Terms
Index of People, Positions and Places
The Calendar of Adamah
This document will be updated. Check this site for new versions, especially when a new volume in the series is released.
---